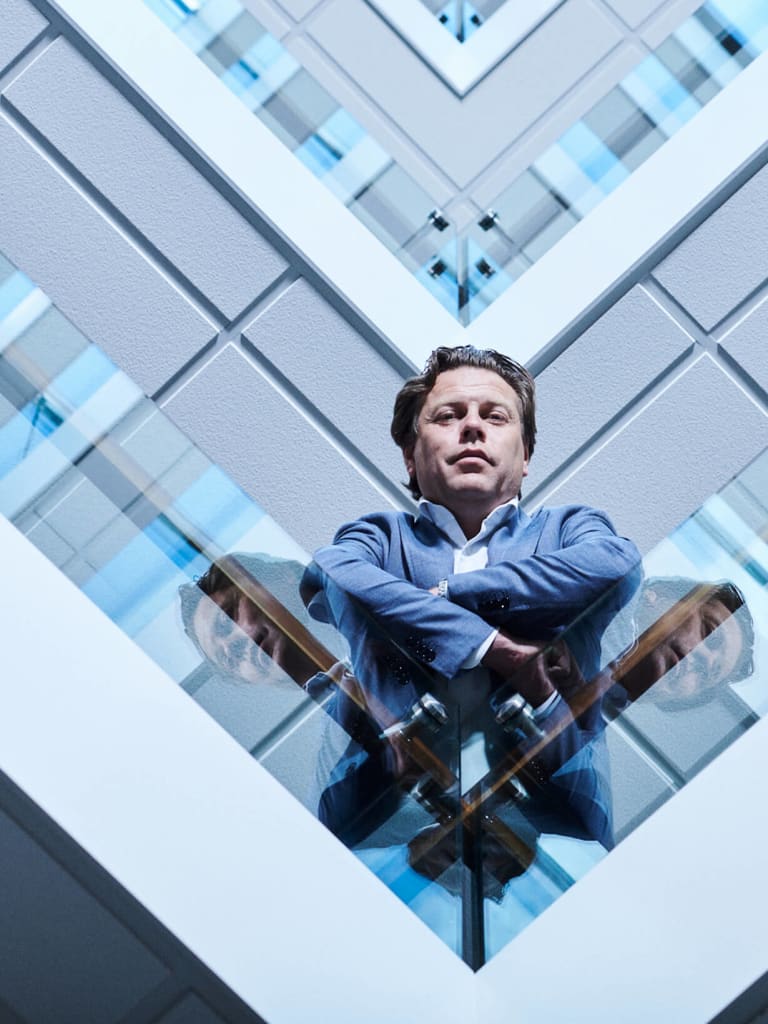 Family owned & client-driven since 1927
We are Damen
Damen is a family owned business that stands for fellowship, craftsmanship, entrepreneurship and stewardship. We believe that our oceans, seas, lakes and rivers offer humanity a growing range of possibilities in terms of trade, food, energy and recreation. We provide maritime solutions to meet these opportunities, through design, shipbuilding, ship repair and related services.
In the previous century, we revolutionised shipbuilding with standardisation and serial production. More than ninety years and 7,000 ships later, those pillars are unchanged. Their importance is only growing with the need for increased sustainability and digitalisation. It is our aim to combine our proven standardisation with the innovations of digitalisation to become the world's most sustainable shipbuilder.
Meet the Damens
The next generation
As a family business, our focus is on the long-term; the next generation. That means we care about bringing you a solution that is not just reliable, it is responsible, too. As a third generation family company, Damen takes a long-term view in all that it does, always looking to the next generation. Here, you can meet the new generation of the family.
Our story
Beginnings (1927 - 1939)
Our story begins with the brothers Jan and Rien Damen opening a small yard on the River Merwede in Hardinxveld, the Netherlands. By the end of the 1930s, though still a small concern, Damen was nonetheless successful and had delivered its 100th vessel.
Our story
A new era (1969 - 1975)
The second generation begins as Kommer Damen takes over the company with a new vision – standardised shipbuilding. Damen is on the move. To ensure its ability to meet growing demand, Damen moves its HQ down the river to Gorinchem.
Our story
Going global (1978 - 2000)
Damen begins to construct vessels outside the Netherlands. Over the coming years, the company expands its operations, acquiring De Groot (1988), Amels (1992) and Royal Schelde (2000) entering the dredging, yachting and naval markets.
Our story
Taking a bow (2006)
Damen is involved in the development of the Sea Axe Bow. This revolutionary hull form increases safety and onboard comfort and offers more efficient sailing. Its distinctive shape is a hallmark by which many Damen vessels can be recognised.
Our story
The next generation (2020)
Arnout Damen, son of Kommer, becomes CEO. Arnout's appointment comes at an exciting time for the company as it aligns towards the future with a focus on sustainability, digitalisation and operational excellence.
Listen to our inspiring podcast that tells you the story of a small company transforming into a global shipbuilder
Key figures
Turnover (2022)
billion EUR
Damen Shipyards Group worldwide
companies
Shipyards worldwide
shipyards
Ships yearly delivered
ships delivered yearly
Ships delivered in 2022
ships delivered in '22
A team of 12,500 over 36 shipyards across 5 continents
R
Damen Shiprepair & Conversion
We operate globally, so we are never far away
We build vessels either at our own yards or at our numerous partner yards around the world.
Discover Damen companies
Oceans of possibilities
At Damen, we believe that oceans, seas, lakes and rivers offer humanity a growing range of possibilities in the areas of trade, food, energy and recreation.
Looking for
Popular content
Useful links