Like Damen, with its ambitions to be the world's most sustainable shipbuilder, German ferry operator Reederei Norden-Frisia has a vision for a green future. The company, which operates services from the mainland of north-west Germany to the Frisian Islands, is taking a very active approach to realising its ambitions.
Green steps
Already, the operator offers electric car and bicycle hire to its clients. Furthermore, Norden-Frisia is installing solar panels and wind turbines to its car parking facilities to generate a significant 5MW of electricity. With this, passengers leaving their vehicles behind will return to find them fully charged and ready to go.
What's more, the power generated will be used to support Frisia's latest initiative in sustainability, as Norden-Frisia Marine Superintendent Michael Garrelts explains.
"We've taken some good steps towards increasing sustainability on land. Around two years ago we decided it was time to take a look at our fleet."
Express wishes
Before taking steps to future-proof its fleet, Frisia first performed its research. What the company found was that there were numerous passengers who would welcome a faster service to the islands.
"We saw that there were a lot of people who were arriving at the terminal by train, or were car sharing," says Michael. "We wanted to offer those people who were not dependent on transporting a vehicle the choice to take a faster ferry.
"We were aware there was demand for this. We've already had some experience with serving these sorts of passengers. For a while now, we've operated a number of conventional propulsion water taxis to the island of Juist. These cater for people who just want to get to the island as quickly as possible."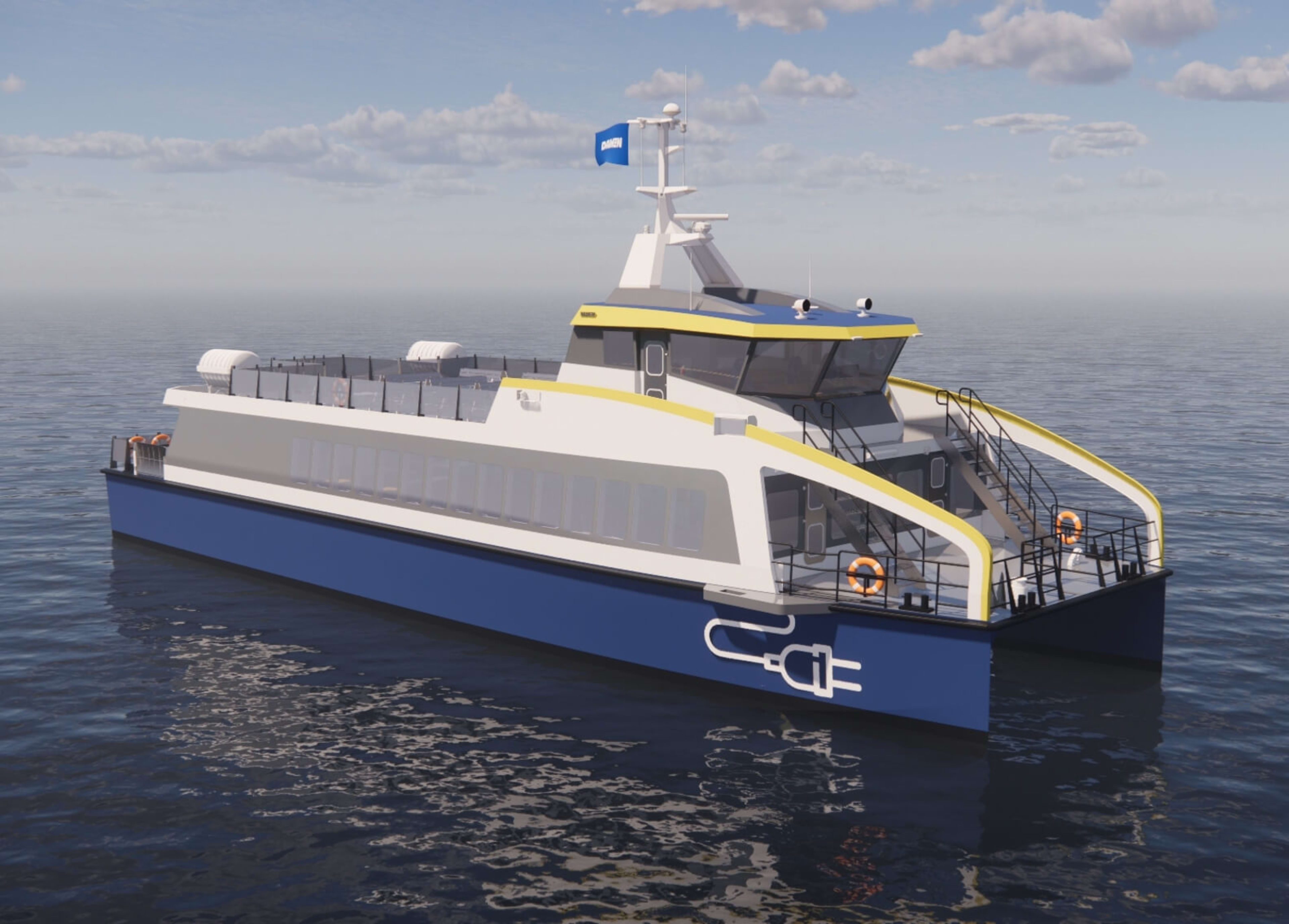 Going to the next level
Now, though, the company decided it was time for the next step; the construction of a fully electric vessel that would be able to transport 150 passengers at a time from Norddeich to the island of Norderney, quickly, cleanly and in optimal comfort.
 It was a decision that raised its own challenges. Principal amongst these was where to build such a vessel. In 150 years of operation, Reederei Norden-Frisia has never built a vessel outside of Germany. When the company began to explore its options, a strong contender emerged.
 "Damen had the track record we were looking for. They had already built a number of fully electric vessels, some of which have already proven their reliability in operation."
 Amongst the fully electric vessels that Damen has delivered are a series of seven ferries operating in the city of Copenhagen, Denmark. Additionally, the shipbuilder has been behind the construction of a fully electric harbour tug, the RSD-E Tug 2513, operating for Ports of Auckland in New Zealand.
 Beyond shipbuilding
After Reederei Norden-Frisia had reached out to Damen it became apparent that the shipbuilder may be able to assist with more than just the design and construction of a vessel.
 "Initially, we only had the vessel in mind, but later on we saw that Damen was able to help us with the charging infrastructure and mooring solutions, just as they had with their earlier projects. With this, we currently have three projects underway, all in one place. It's a very convenient and efficient process."
 It is Damen's aim, not only to deliver efficient and sustainable ships to its clients, but to take on an integrator role, looking after the entire process – in this case including electrical infrastructure – often for the entire lifecycle of the vessel.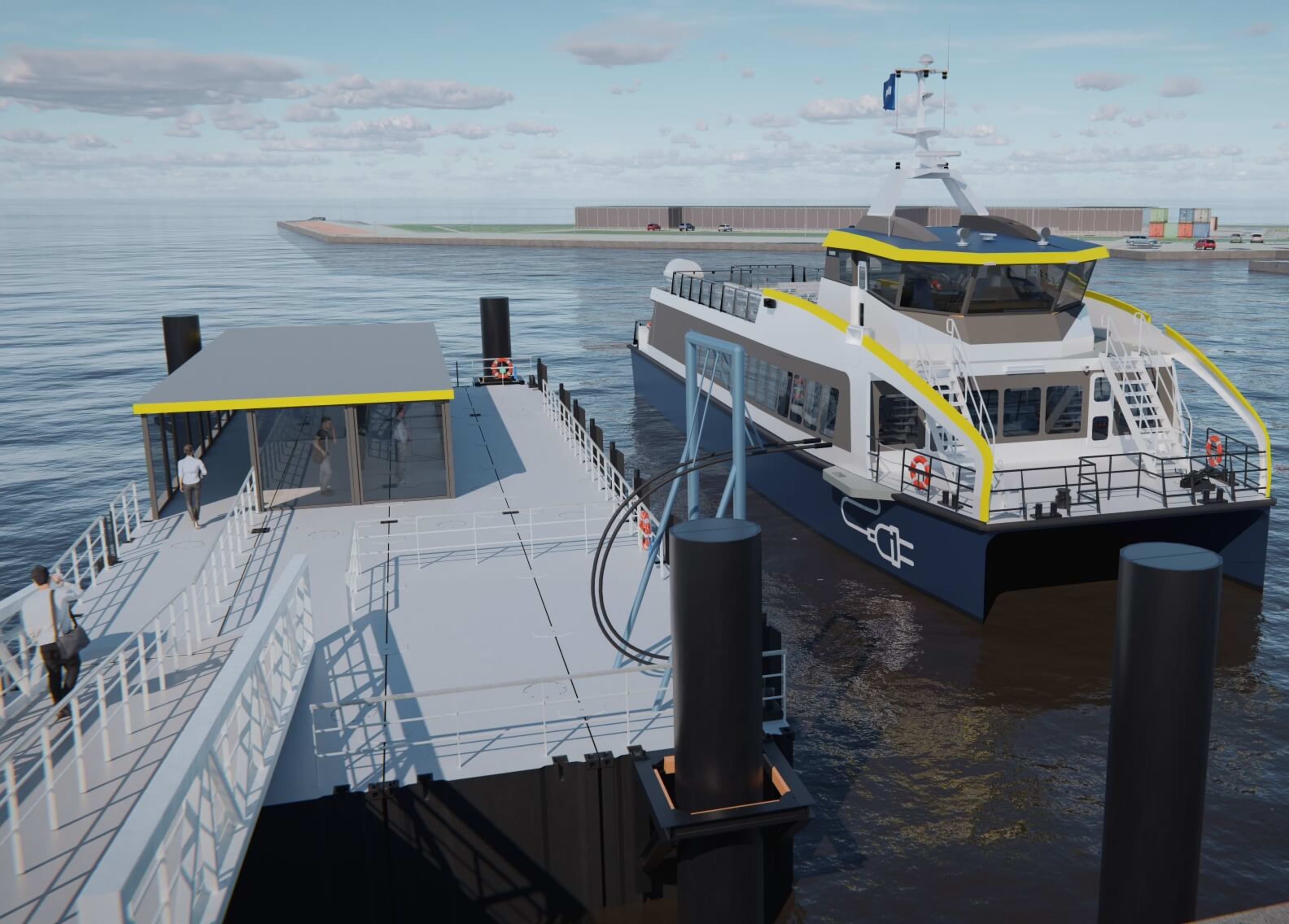 A tailored approach
The route that the ferry will operate required Damen to develop a completely new vessel – the Damen Fast Ferry (FFE) 3209 – known as the E-Cat Ferry.
 "There are a number of factors about the route that make use of a standard vessel impossible," says Michael. "For a start, the ferry must operate in very shallow water. In order to be able to provide a service seven times a day, the vessel's maximum draft must be no more than 1.2 metres. It's a challenge, but Damen managed to find a solution."
 The need for a customised vessel has led to a strong spirit of collaboration between Damen and its client, who have worked together in the development of an appropriate vessel.
 "Damen have really thought along with us," states Michael. "For example, we initially wanted to integrate water jets to the vessel. "However, Damen pointed out that using fixed pitch propellers would offer greater efficiency."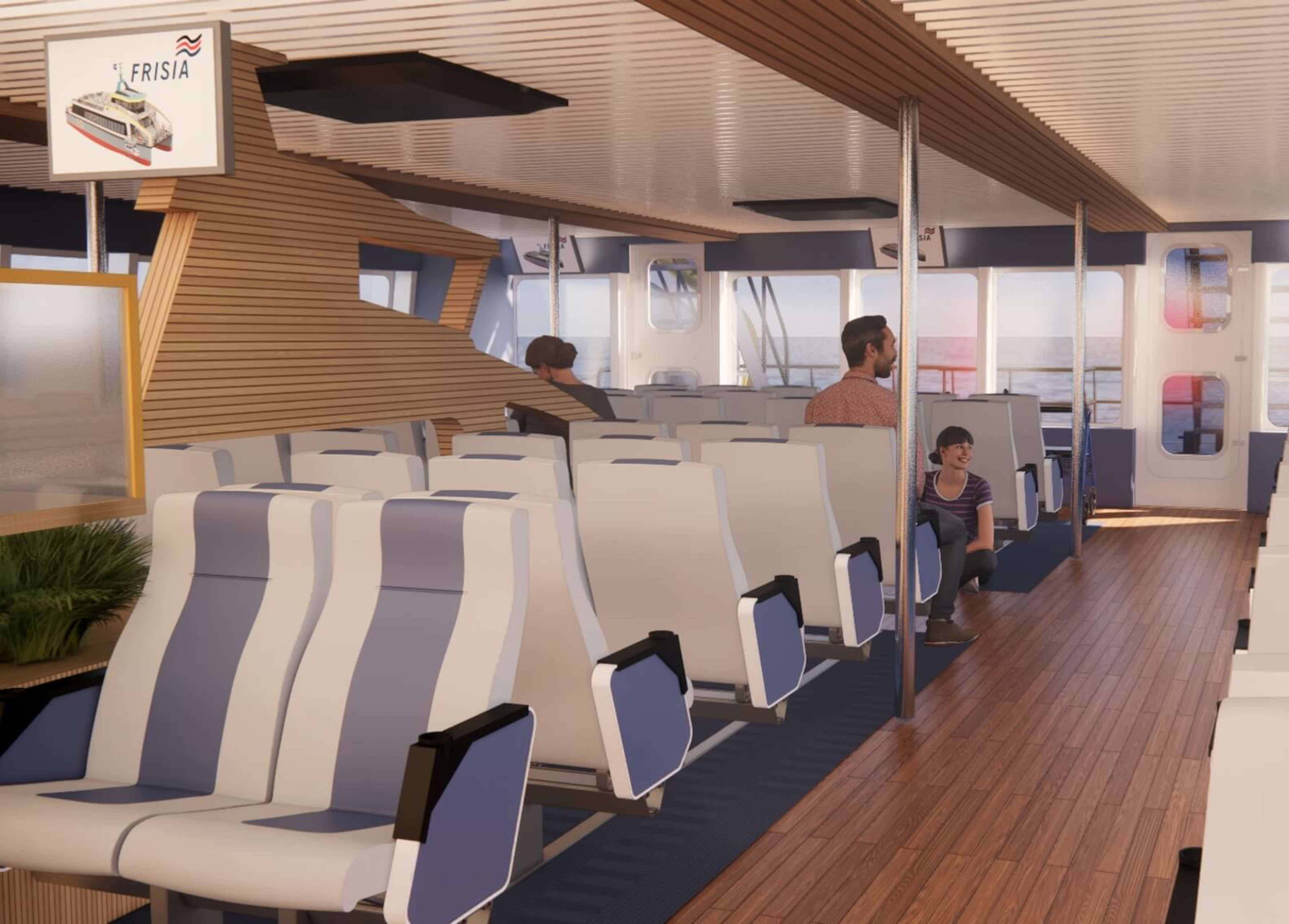 Protecting world heritage
Additionally, the Wadden Sea, in which the Frisian islands are located, is a protected UNESCO World Heritage site. This imposes a number of strict criteria on vessels operating in the waters, one of which is a speed restriction.
 "Obviously, one of our goals with this service was to offer people an express service to the island. However, there is a speed limit in place. A vessel operating on this route must not exceed 16 knots."
 Even with this restriction in place, the E-Cat Ferry cuts the transit time to Norderney in half – to just one hour. Charging, which takes place in just 30 minutes, can be done while passengers are embarking and disembarking.
 First milestone
Recently, the project has reached a significant milestone with tank testing in Duisburg, an event that Michael attended personally.
 "It was a good step forward. The model performed as expected in the tank tests and now we're looking forward the next stages, including the keel-laying in Poland."
 Once the hull has been constructed at Damen's yard in Kozle, it will be transported to Damen Shipyards Gorinchem for outfitting. The vessel is scheduled for delivery to Norden-Frisia in May 2024.
 The focus of a nation
Michael anticipates the E-Cat Ferry will be something of a pioneer for electric ferry services in the region.
 "This is a very exciting moment. The ferry will be the first fully electric seagoing vessel to sail under German flag. I am confident, however, that it will not be the last. More and more passengers are consciously looking to contribute to the energy transition, and I can see demand for the type of vessel growing in the coming years.
 "As a result of that, I expect the whole of Germany will be paying close attention to the construction of this ferry."