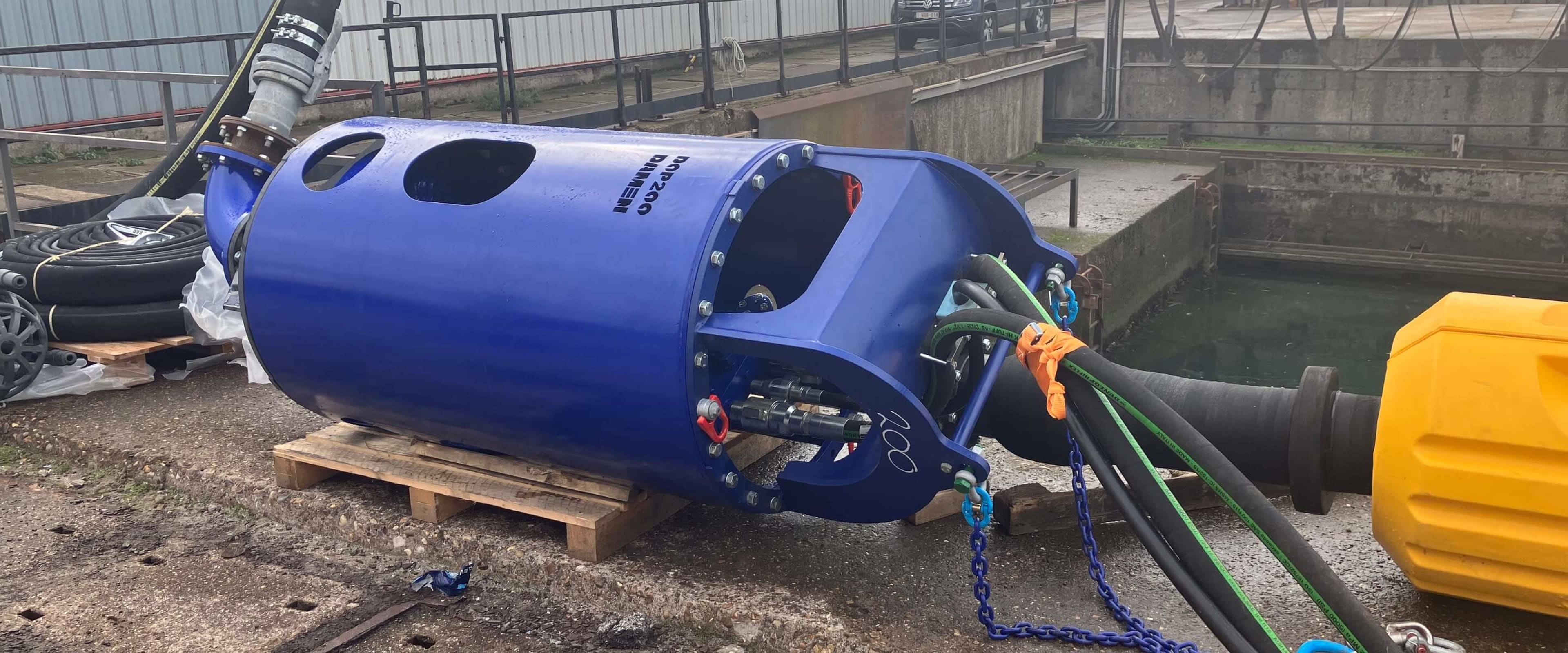 Maintenance dredging lock includes mussels removal
DOP200 in diving operation
Precision dredging in diving operation at lock
Period

Q4/2022 – Q2/2023

Product type

DOP200

Head type

Leveller
Job type

Precision dredging

Contractor

Submar Subsea Services
The Belgian specialist diving company SUBMAR BV ordered a DOP200 dredge pump for one specific project: cleaning out the Charles de Gaulle lock in Dunkerque, northern France. The lock, measuring 365 by 50 meters, involves a structure with four rolling doors of 1,700 ton each. These doors are to be opened and closed without at hitch, which requires maintenance dredging of their surroundings.
Hand-operated diving action
The chambers containing the doors have silted up over the years. Moreover mussels and oysters have formed shell clusters around the doors' structures, hampering the doors' movement. The lock does not allow for vessels such as dredgers to clean out the sedimentation. Therefore a specialist diving service was called in to perform the underwater maintenance duties at the lock.
From the quay wall, a diver is sent down together with the DOP200 submersible dredge pump. To the suction side of the dredge pump, up to 60 m of flexible hoses are connected. This suction opening is directed by the diver by hand along the clogged-up lock structures. The dredge pump removes all debris, including shell clumps, and pumps the mixture to the other side of the lock.
Continuous dredging process
The dredging process using the DOP submersible dredge pump is continuous. The suction head is directed along the dock structures, cleaning out both sedimentation and shells. The impeller width ensures that large clumps can pass without stopping the dredging process; the sphere passage of the dredge pump has been designed for large particles to pass. This results in an efficient operation as both the diver and the DOP pump can remain submersed and at work over longer periods of time.
Careful consideration of dredging concept
DOP dredge pumps are frequently used in a rather standard set-up: attached to an excavator, powered by its HPU. The lock-cleaning project is quite different though: the limited available space and the fact that all dredging action is done using a diver required careful consideration. Before the DOP dredge pump was purchased, SUBMAR BV and Damen Dredging discussed all aspects of the dredge job in detail, matching the right tools to the job. As a result, the on-site commissioning of the DOP200 was completed swiftly. Moreover, since the start of the project 6 months ago, the DOP dredge pump has performed beyond expectations, with no notable standstills. An excellent proof that careful consideration and planning obtains the best results!
How do you maintain your quays & locks?
Let's discuss how to keep your harbour accessible.