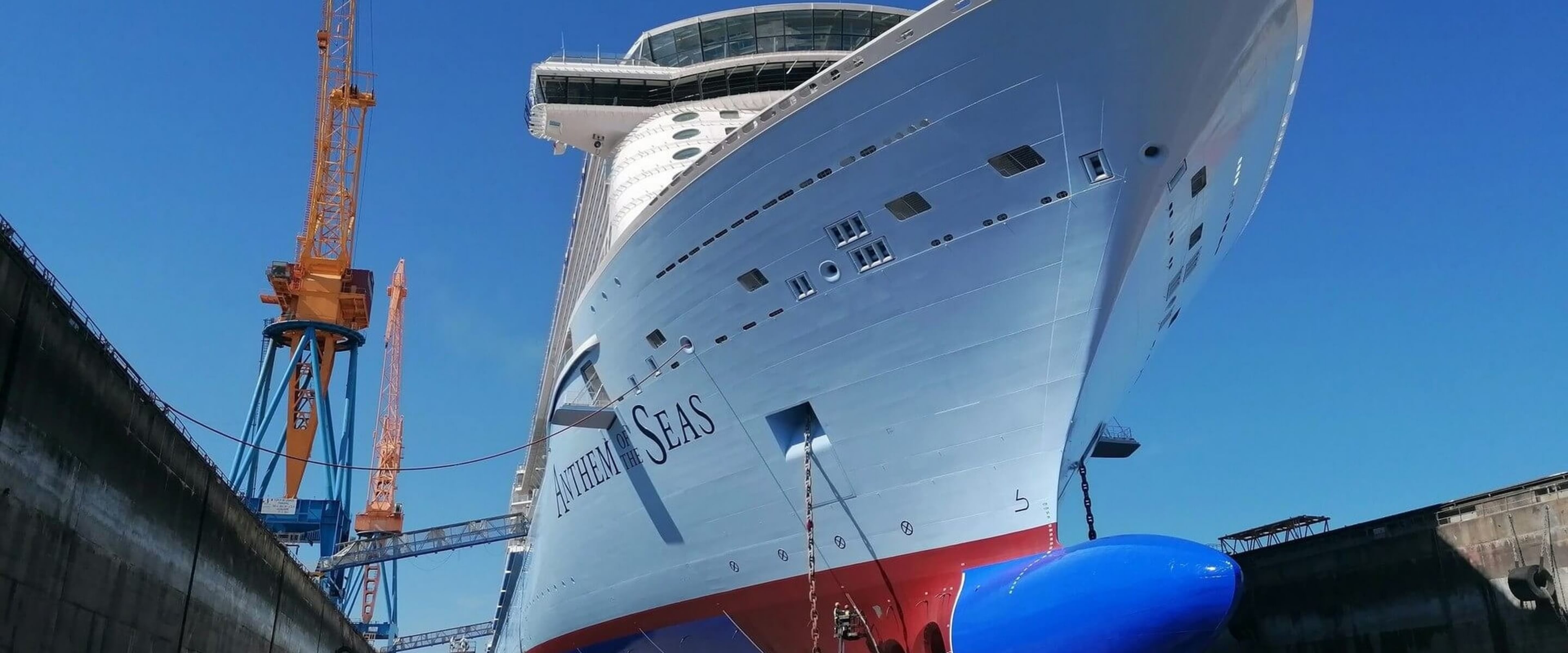 Damen Shiprepair Brest completes maintenance work on 'Anthem of the Seas'
Date

August 2020

Ship name

Anthem of the Seas

Ship type

Sea Cruise
Yard

Damen Shiprepair Brest

Tasks performed for this project

Maintenance
Damen Shiprepair Brest recently completed maintenance works to RCL Cruises' Anthem of the Seas. The yard received the contract for the project having demonstrated its ability to execute a quick turnaround. In 2018, DSBr provided crew accommodation alongside another RCL Cruises vessel for 50 hours to facilitate garbage removal following an Atlantic crossing; timing was imperative with the ship expected in Southampton to collect passengers for another voyage.
The arrival of Anthem of the Seas was DSBr's first real docking of a cruise vessel for RCL Cruises. The yard was preparing for the project for approximately one year. This entailed a degree of flexibility, with the outbreak of the coronavirus altering the scope of work at the last moment.
Preparations for the project included mobilizing a 500-ton crane in order to undertake the removal and re-fitting of the gondola for bearing replacement. Other tasks included Azipod horizontal bearings replacement, cleaning of the hull and paint repairs, valve inspection, bow thrusters inspection, stabiliser inspection, lifeboat and davits load testing and logistics works.
With good planning, assisted by favourable weather conditions, DSBr managed to turn the project around in the allocated timeframe of 17 days.
Type of tasks performed
AZIPOD horizontal bearings replacement

Cleaning of hull and paint repairs

North star removal and fitting on pier for bearing replacement on gondola and basement bearing - 500 Tons crane mobilized for the operation

Valves inspection

Bow thrusters (x4 pcs) inspection

Stabilizers inspection

Logistic works

Lifeboat and tenders davits load test
Damen Shiprepair Brest
Damen Shiprepair Brest is a well-established repair yard with modern facilities. It has three dry docks, the largest being 420 x 80 m, which is one of the biggest in Europe. This allows the yard to accommodate almost any ship in the world.
Read more