Damen Song Cam Shipyard is located approximately 9,000 kilometres from Gorinchem in the Hoang Dong commune in Thuy Nguyen district, Haiphong in Vietnam.
From the head office in Gorinchem, Damen Song Cam Shipyard – part of the division Workboats – is about the most distant shipyard in the Group. Even so, it is also one of the most Damen of the 35 yards we have worldwide. Standardisation and series builds - whether or not from stock - go hand in hand with care for, and a focus on, the environment, the local community and, of course, our own people and partner companies. Damen Song Cam Shipyard viewed from five perspectives...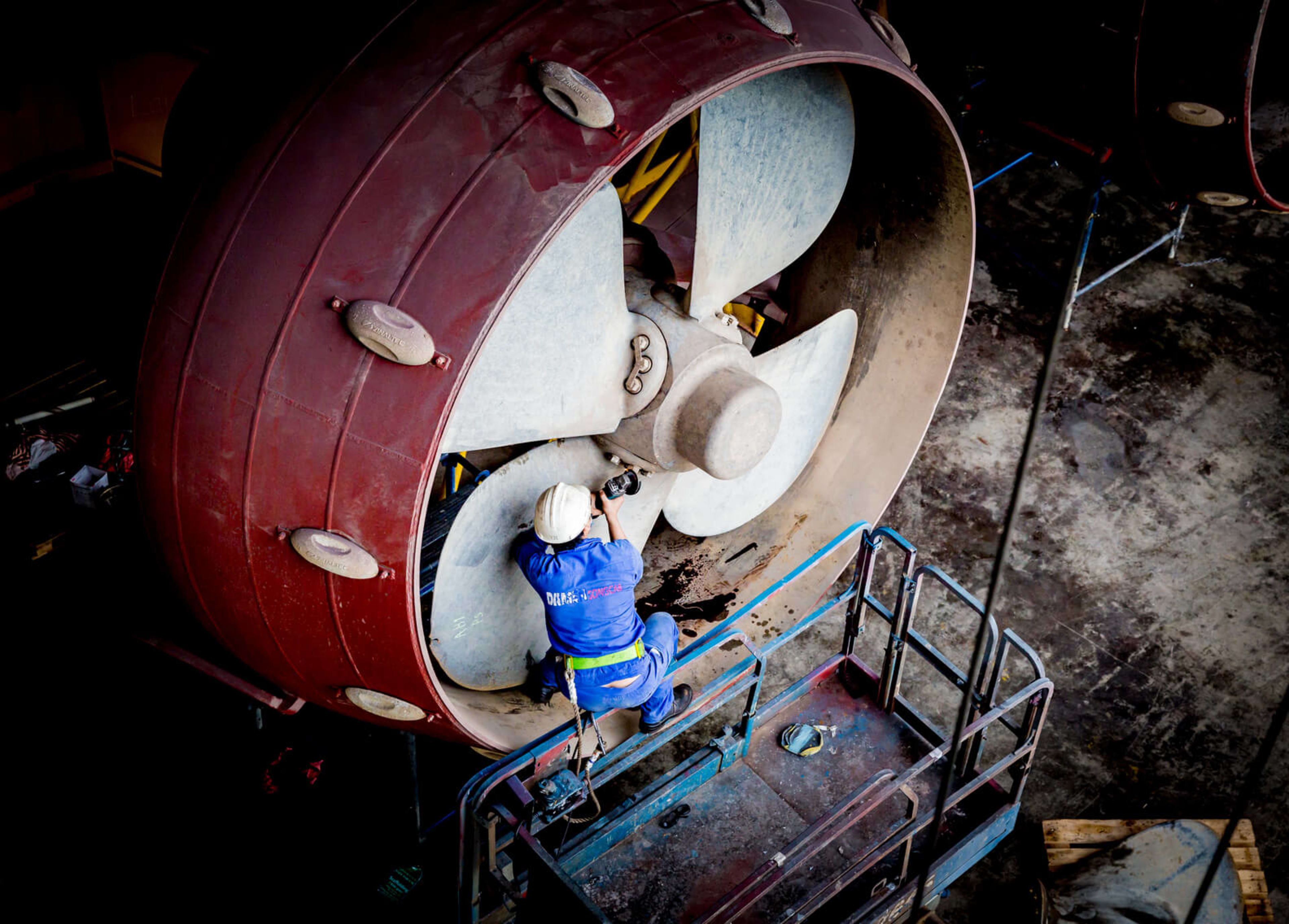 Song Cam and Damen Song Cam
Song Cam Shipbuilding began in 1959 in the Haiphong shipbuilding area in Vietnam. The alliance with Damen dates back to 2002, when the yard built five Damen-designed search-and-rescue vessels for the Vietnamese Coast Guard. Since then, there have been over 260 joint projects.
Since the establishment of the Damen Song Cam joint venture in 2014, the workforce of approximately 1,000 people at Song Cam Shipbuilding focus on the hulls, while the 600 employees of Damen Song Cam Shipyard work on the outfitting. Every year, more than thirty ships are completed and deployed worldwide. The yard is now scaling up to forty ships a year.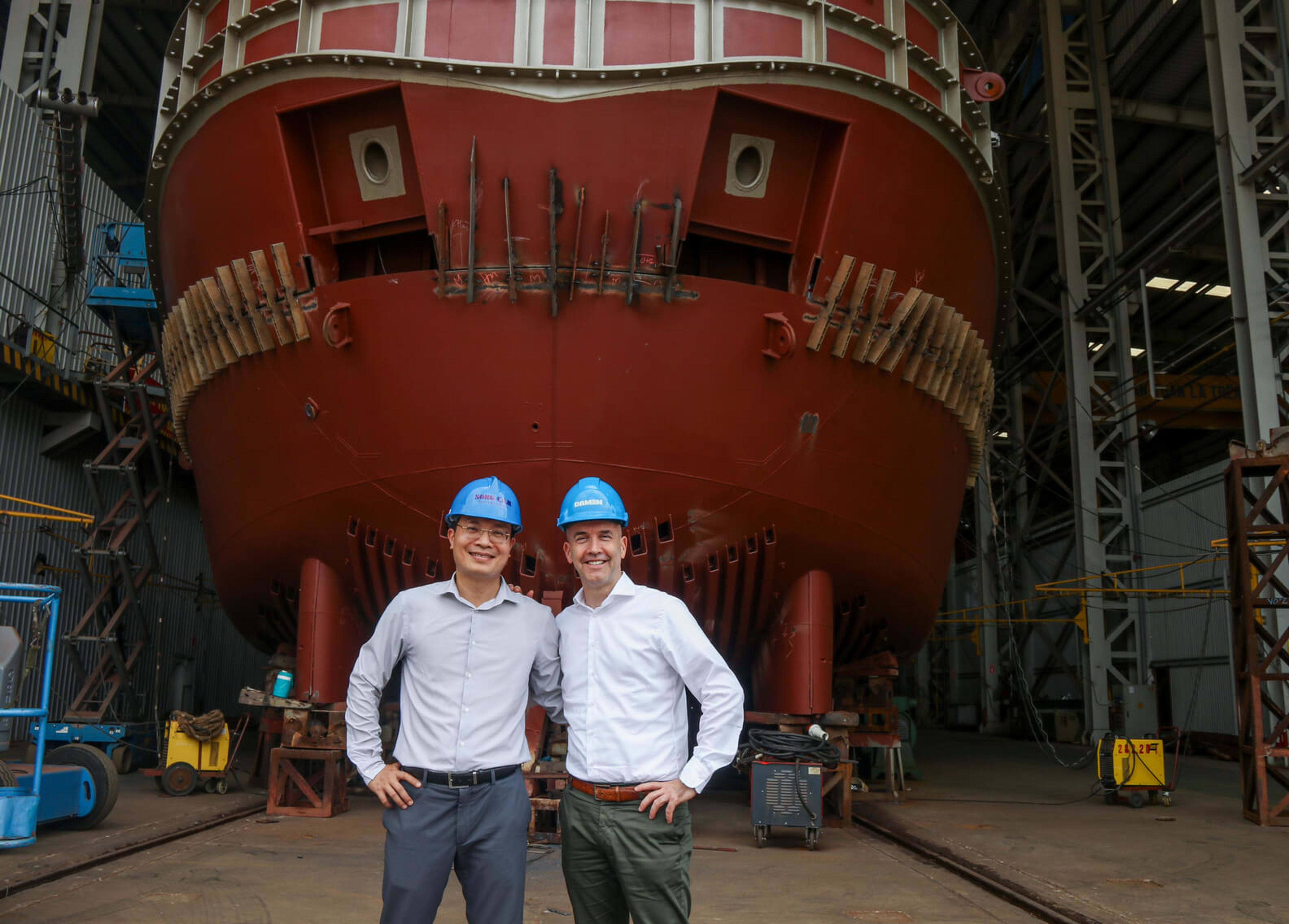 From left to right: Dam Quang Trung & Joris van Tienen
The joint venture partner
"The joint venture has definitely helped us to make progress," says Dam Quang Trung, managing director of Song Cam Shipbuilding since 2018. "I have a great deal of respect and admiration for the Damen people. They tackle everything very professionally. They want to do just that bit better, every day; they always focus on innovation. I learn from that. And they learn from us. Never to give up. Keep on trying. We Vietnamese are problem solvers."
"For Vietnam, shipbuilding is a particularly important activity. We are a maritime nation with an extremely long coastline. So we have strong nautical ambitions. In our case, we work with Damen on achieving them. I think of it as a good marriage."
The managing director
"We are strongly committed to presenting Damen Song Cam as a flagship yard. Building safe, clean, tidy ships with people and the environment in mind," explains Joris van Tienen. "People certainly see that, and they appreciate it as well. We have a very good relationship with the local government. Every year, we team up on a joint project. For example, we financed the collection of household waste and two waste collection stations in Hoang Dong Commune. Working with the local government, we have also organised an awareness programme at schools and for the local population as a whole. To make sure the message sticks."
"I think it's wonderful to see how people here are so keen to learn. We set up a company school, where people with lower education get further training in practice. This programme works with between ten and twenty young people at a time. But we also actively transfer knowledge to our engineers and middle managers. Many of the Damen Song Cam commissioning engineers are now working at Damen in a wide range of positions around the globe. Recently, we had the first, all-Vietnamese, delivery crew. That was for a vessel for Bangladesh. A great milestone!"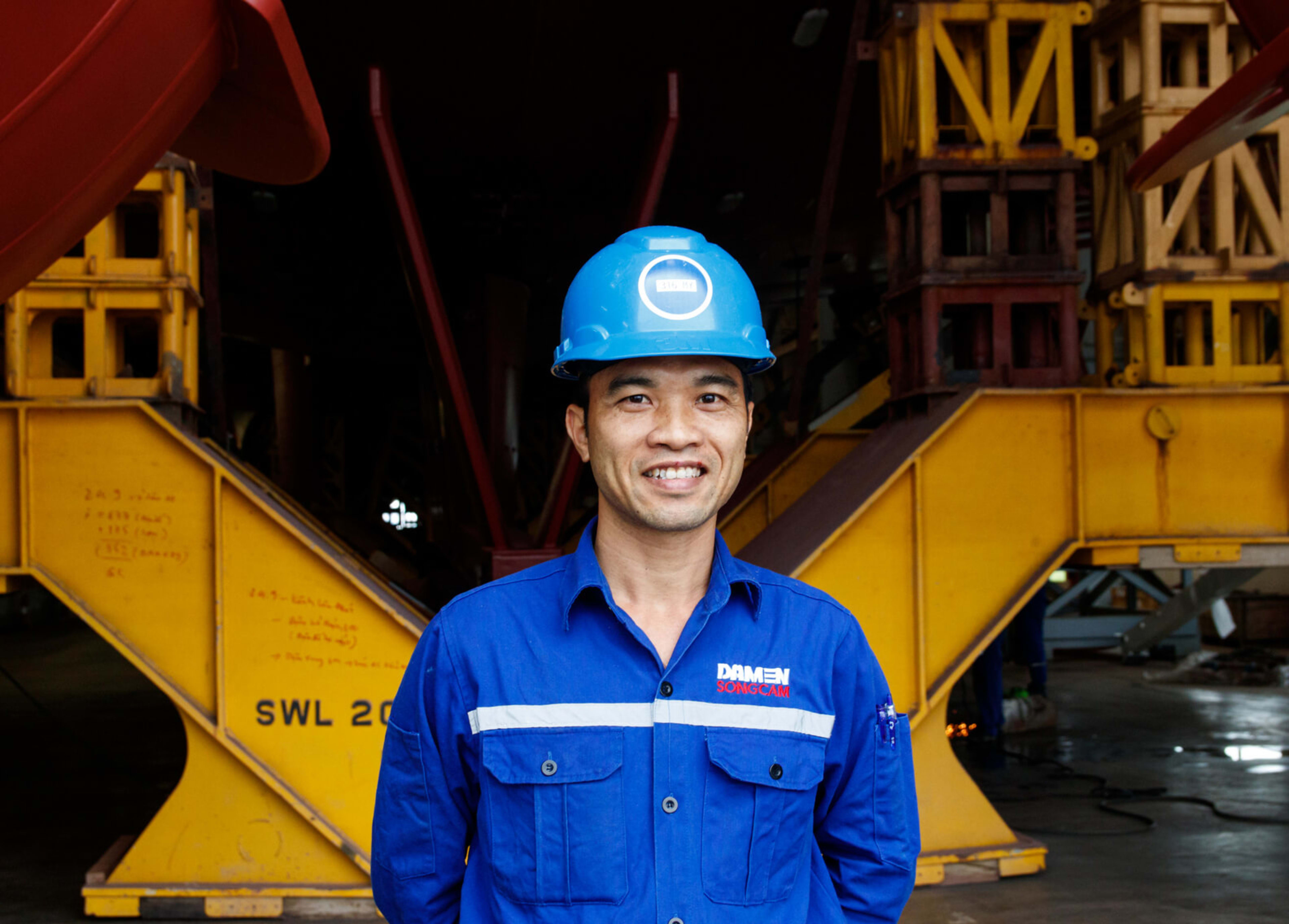 On the photo: Nguyen Van My
The foreman of the paint shop
"You see, what I appreciate is that everything is arranged well and professionally," is how Nguyen Van My sees Damen Song Cam. "The facilities are state-of-the-art. The tools are well maintained and checked, and good personal protective equipment is also available. That matters, especially if you're working with paint. This is a safe and healthy workplace. And there's something else that isn't unimportant: we have a stable income, and clear welfare and benefits."
"My satisfaction comes from the ships. Or rather from the customers. They very much appreciate the high quality that we deliver. It's a good feeling to make a contribution. So I'm looking forward to the scaling up of production to forty ships a year. That will be quite a challenge but it's much better than during COVID-19, when there wasn't much work to do. Just let met go to work."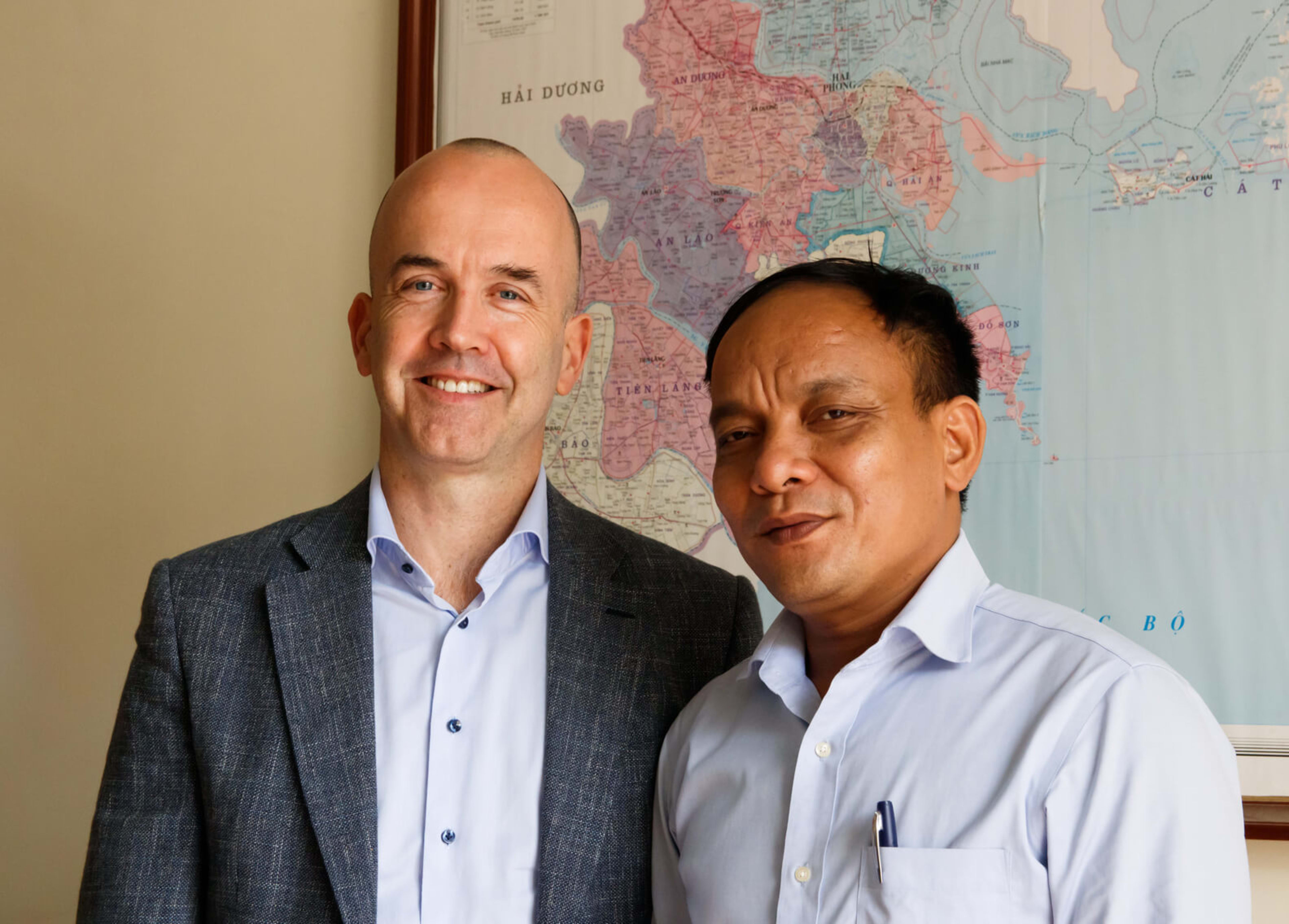 From left to right: Joris van Tienen & Nguyen Cong Toan
The Chairman of the People's Committee of Hoang Dong commune
Nguyen Cong Toan: "The presence of Damen Song Cam Shipyard has been creating more jobs for the locality's labour force and for neighbouring communes, contributing to their socio-economic development and helping the local people settle down. I have seen with my own eyes how, since its opening in 2014, the company has been assisting us and local people to safeguard social security, help poor households, take good care of education and, in particular, to organise numerous activities to raise awareness of environmental protection."
"I hope we will continue to receive the company's support with regard to the environment, education and facilities so that Hoang Dong commune can soon finish its new countryside model construction and become a ward of the future city of Thuy Nguyen."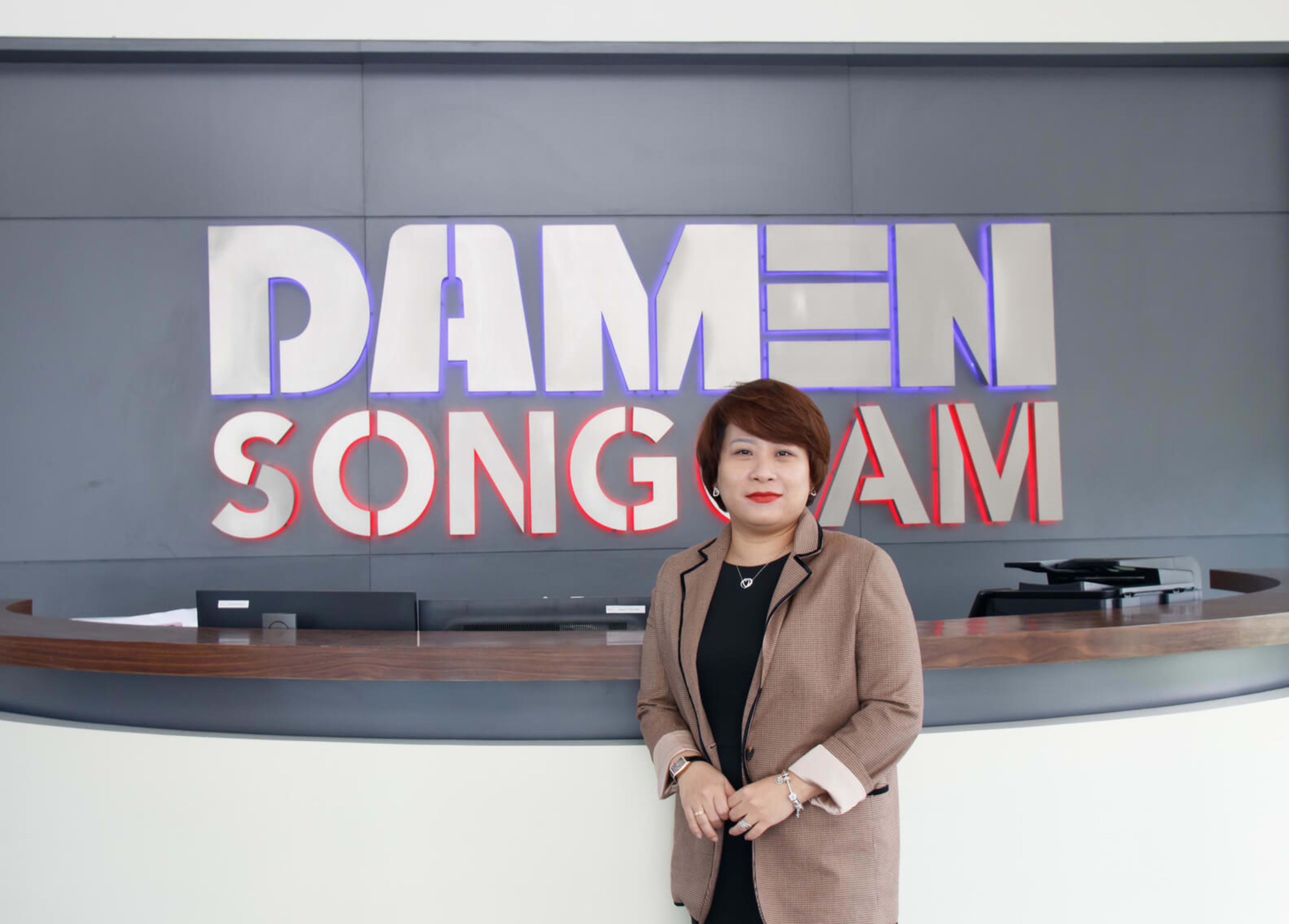 On the photo: Pham Thi Phuong Thao
The Administration Department Manager
In 2008, Pham Thi Phuong Thao joined Damen Song Cam Shipbuilding as an assistant and translator. She now manages a department of sixteen people at Damen Song Cam and she is responsible for, among other things, administration, facilities, reception and travel arrangements. "The nice thing about this company is that there is a genuine team spirit. People are supportive and transparent. That makes it nice to work together.
I have also been able to do a lot of training courses, for example in the field of middle management skills and leadership. That's how I've been able to keep developing myself."
"I'm proud to have been able to contribute to the development of the yard. I was one of the first employees of Damen Song Cam, when it was still mainly rice fields round here. And now look how beautiful it is and how we are making something as wonderful as Damen's first electric tug. That's actually rather incredible."
Receive our newsletter
Get Damen updates, news and amazing offers delivered directly to your inbox.