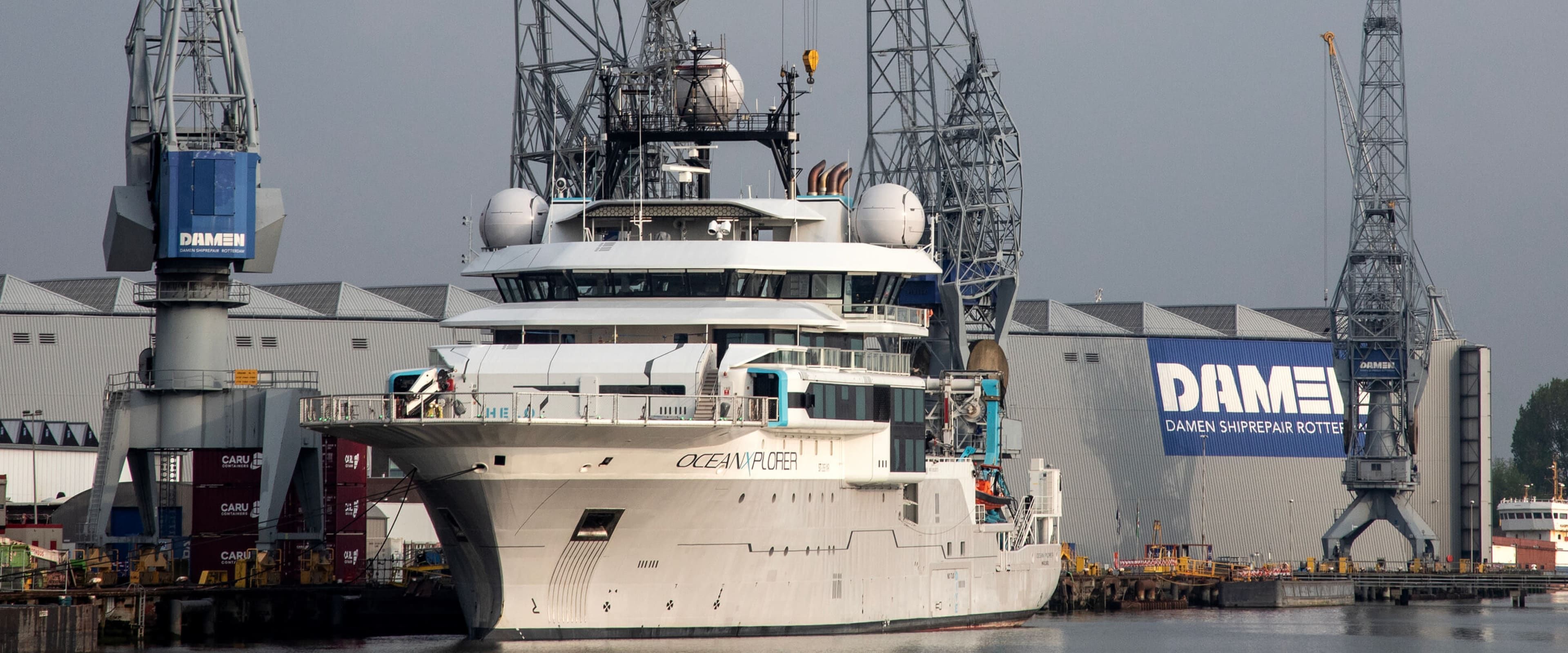 OceanXplorer conversion complete
Date

August 2023

Ship name

OceanXplorer

Ship type

Offshore Surveying Vessel
Yard

Damen Shiprepair Rotterdam

Tasks performed for this project

Conversion
Damen has completed its scope of work on the OceanXplorer – a full option exploration vessel. OceanX is on a mission to explore our oceans, undertaking groundbreaking scientific research and sharing the previously unseen results with the world – in real time.
As main contractor, Damen's scope included responsibility for both the vessel's interior and exterior. Throughout the five-year project, Damen has worked closely with OceanX's specialist teams. Ocean X selected Damen for the project based on the multi-disciplinary capabilities within the Damen Shipyards Group. As a result of this, Damen was able to support its client as a one-stop-shop.
The project required the rebuilding, from the main deck upwards, of five-year-old platform supply vessel, the Volstad Surveyor, transforming it into a state-of-the-art expedition ship. The extensive work of the project required up to 400 people working on board the vessel at one time.
In addition to the structural aspects of the project, Damen oversaw the integration of the vessel's complete systems, including the laboratory and hydrographic systems and a range of innovative IT infrastructure.
Damen widened the beam of the vessel and constructed cabins across its breadth. Increasing the accommodation capacity in this way, paved the way for OceanXplorer to achieve her scientific aims. The increase space available is sufficient to house OceanXplorer's scientific research facilities, including one wet laboratory and three dry laboratories.
OceanXplorer features a range of exploration equipment, including a submarine, launched from a A-frame, CTDs and an ROV. It also features a gondola from which is conducts 3D scans, including audio, of the sea and seabed.
The vessel also features a cutting-edge media centre, including virtual reality equipment and a film studio. From this, Hollywood standard facility, OceanXplorer is able to livestream the findings of its research activities to the word.
Damen Shiprepair Rotterdam
Part of the Damen Shipyards Group, Damen Shiprepair Rotterdam (DSR) is a leading ship repair and conversion yard in the Netherlands and one of the largest in Western Europe.
Read more