The new Multi Cat 3713, to be named Waddenstroom, is currently in build at Damen Shipyards Hardinxveld as part of the Damen philosophy of building for stock and will be delivered on 26th October this year. The 37-metre DP2 vessel is the largest and most innovative model in Damen's highly regarded Multi Cat range.
The Waddenstroom is being fitted out to the highest standards. As part of Van Wijngaarden Marine Services' (VWMS) commitment to crew welfare, crew capacity and comfort is most important. The design of the accommodation on board the MuC 3713 is for up to 16 persons. Ten of these will be in cabins located above the main deck level, a first for the Multi Cat series. The remaining six personnel will be in cabins below the main deck.
A DP2 system will ensure that the vessel can meet the requirements of the renewables sector. The innovative propulsion design features two 360 degrees thrusters plus one conventional propulsion arrangement aft, combined with two compact jet bow thrusters in the bow. Together these will provide excellent positioning capability. The diesel-electric propulsion system will ensure efficient fuel consumption. Preparations for the future connection of a deck-mounted containerised battery package will be installed for zero-emission operations. The bollard pull will be up to 35 tonnes.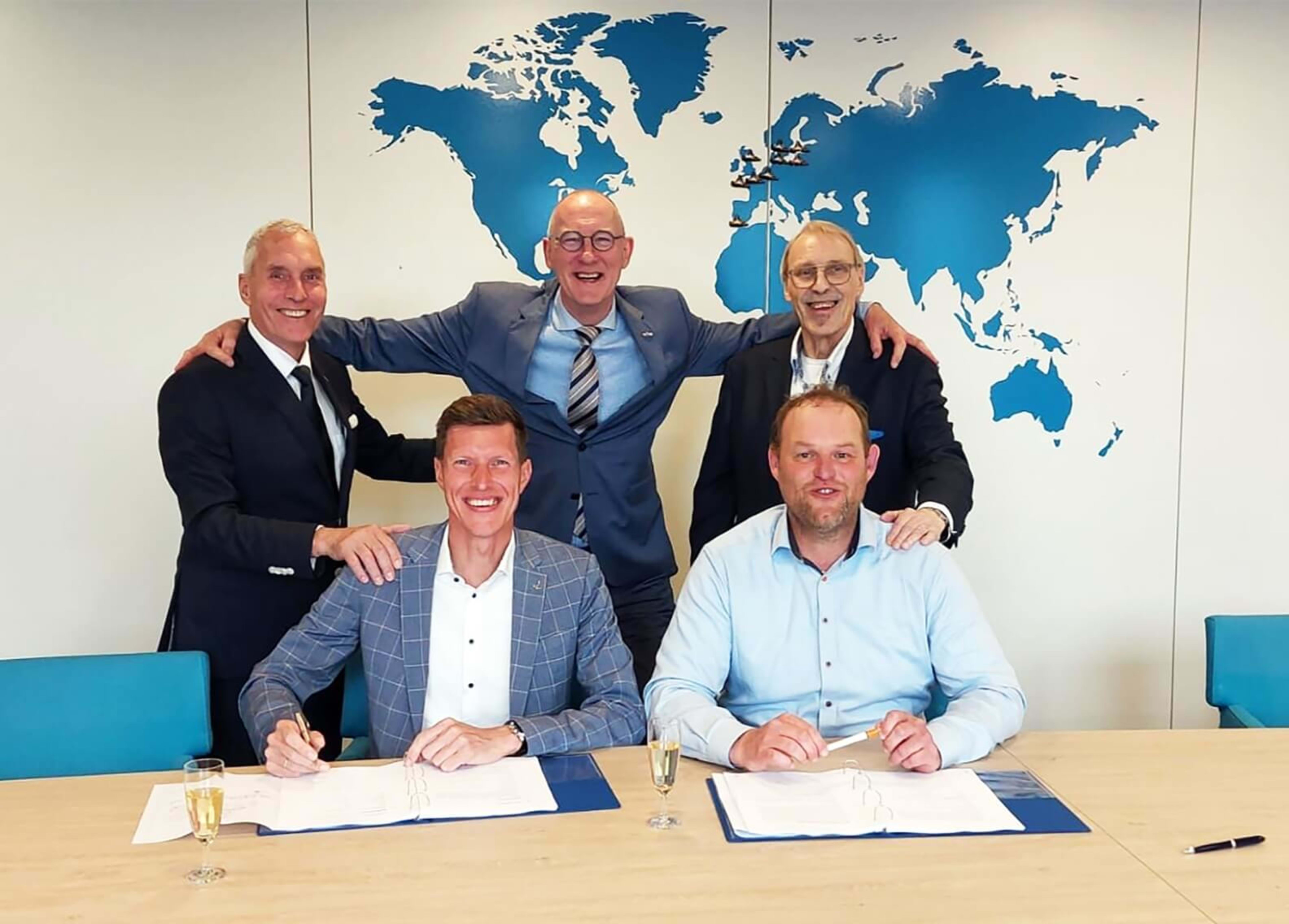 Sitting at the table: Jeroen van Woerkum (Commercial Manager, Damen Shipyards Hardinxveld), Peter van Wijngaarden (Managing Director, Van Wijngaarden Marine Services B.V.). Standing behind: Jos van Woerkum (Managing Director, Damen Shipyards Hardinxveld), Bas Ort (Chairman, Netherlands Maritime Technology Association), Wim van Wijngaarden (Owner, Van Wijngaarden Marine Services B.V.)
The vessel will be equipped for maximum sustainability. VWMS has opted for a Damen Marine NOx Reduction System with its advanced active emissions control system using selective catalytic reduction (SCR), to make it IMO Tier III certified.
Additional capabilities that will be added include the steelworks required to accommodate multiple A-frames to do ploughing and similar works. The 190m² deck is also being modified to allow for the fixing of mission containers.
In keeping with the Damen Multi Cat ethos, the MuC 3713 will be fitted with cranes fore and aft, with a capacity of 13.5 tonnes @18.5 metres. Anchor handling, towing and tugger winches, together with bow and stern rollers and towing pins, will enable it to undertake a wide range of support roles both offshore and, with its minimum draft of just 2.3 metres, close to shore.
VWMS is a long-standing and valued client of Damen. Their fleet of workboats includes five Damen Shoalbusters and in 2019 it took delivery of its first Damen Multi Cat, a 30-metre DP1 MuC 3013.
Peter van Wijngaarden, Managing Director of Van Wijngaarden Marine Services, said, "As a family owned company we are very pleased with the good cooperation between Damen Shipyards Hardinxveld and our team / crew regarding the ideas and philosophy that form the basis of a vessel that combines a shallow draft and sustainability with high standards of crew welfare and a future-proof propulsion system. All our wishes regarding above are being implemented in this DP2 Multi Cat."
Jeroen van Woerkum, Commercial Manager of Damen Shipyards Hardinxveld, added, "We are very pleased that Peter van Wijngaarden and his team have returned for a second Multi Cat. VWMS has great experience in shallow water operations and their confidence in our vessels is a source of much pride. We look forward to delivering the Waddenstroom in the autumn."