On behalf of SLPLUS Holding and based on their trust in Feyz Group's operational capabilities, Damen Shipyards has received a new order for a Combi Freighter (CF) 5000 and an additional CF 3850, just four weeks after a contract was signed for three CF 3850s. The Feyz Group is currently renewing its fleet and the fast delivery times that Damen achieves through its policy of building in series enables them to respond quickly. The standardization and modular design approach by Damen Shipyards also delivers proven efficiency and endurance.
Designed for general cargo like the other models in the Damen Combi Freighter family, the CF 5000 shares many of the core design attributes of the CF 3850. 86.60 metres in length, it has a hold capacity of 7,000 m³ and can carry up to 5,080 tonnes of cargo or 164 TEU containers. It also offers the possibility to have four tween decks that can be assembled to form two bulkheads in the hold for even more versatility. Lashing points are provided at all the desired locations and there are container fittings on the tank top and hatches. The tank top is also certified to carry loads up to 15 tonnes per square metre and the vessel has classification approval for dangerous goods and loading aground.
From left to right: Yasin Us (Partner, Feyz Group), Engin Aynaci (General Manager, Feyz Group), Serkan Leke (Chairman of the Board, SLPLUS Holding), Jan Willem Dekker (CCO, Damen Shipyards), Boran Bekbulat (Regional Sales Director, Damen Shipyards)
The ABC 6DZC engine type is the same as that in the smaller CF 3850, but in the CF 5000 it runs at higher revolutions per minute. 1000 rpm delivers 1326 kilowatts and this provides all the power needed for fast, safe and economical passages. For those operators looking to further reduce their emissions, a number of options are available including wind-assisted propulsion.
The Combi Freighter family has five models ranging from the Combi Coaster 2750 up to the Combi Freighter 8200. Built at Damen Yichang Shipyard in China, the series construction technique and the use of standardised components and systems ensures highly competitive pricing and rapid delivery. The hydrodynamic properties of the hull shapes deliver exceptional performance which results in the Combi Freighters requiring less power than comparable vessels. This in turn leads to smaller engines than their equivalents, consuming considerably less fuel and requiring less maintenance.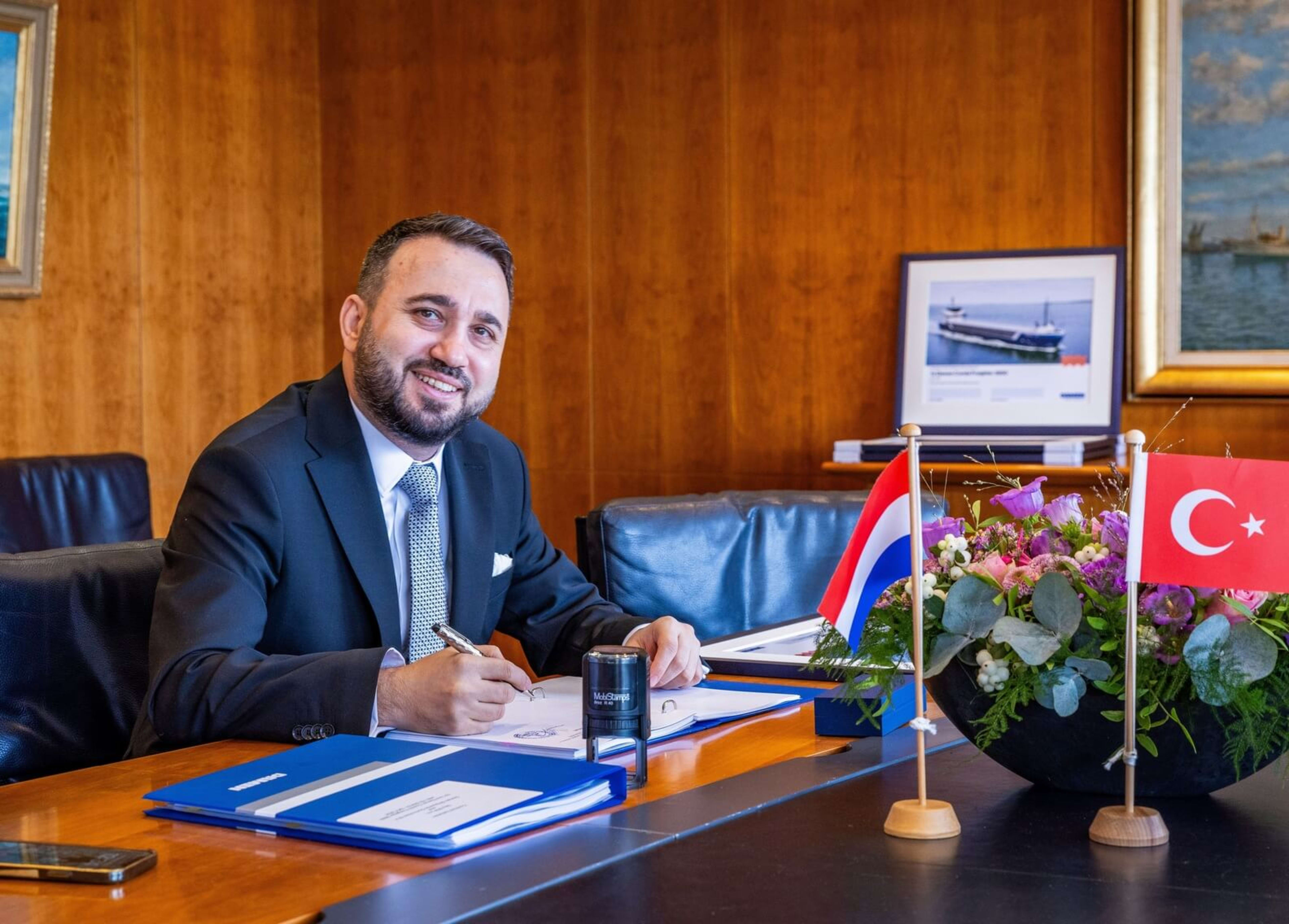 Engin Aynaci (General Manager, Feyz Group)
It was noted by Mr Engin Aynaci, the general manager of Feyz Group, that: "Due to the positive market reaction to our recent order from Damen, we have decided not to wait and will proceed with renewing our fleet without wasting any time. With these new orders, we are enhancing the versatility of our fleet, while simultaneously maintaining interchangeability and improving reliability, thanks to Damen's standardization philosophy."
Damen regional sales director, Boran Bekbulat added: "We are delighted that the Feyz Group has returned with SLPLUS Holding to us so soon after their recent order for the three CF 3850s. We greatly value their commitment to a long-term relationship with the Damen Group."
The vessels are scheduled for delivery at the end 2024.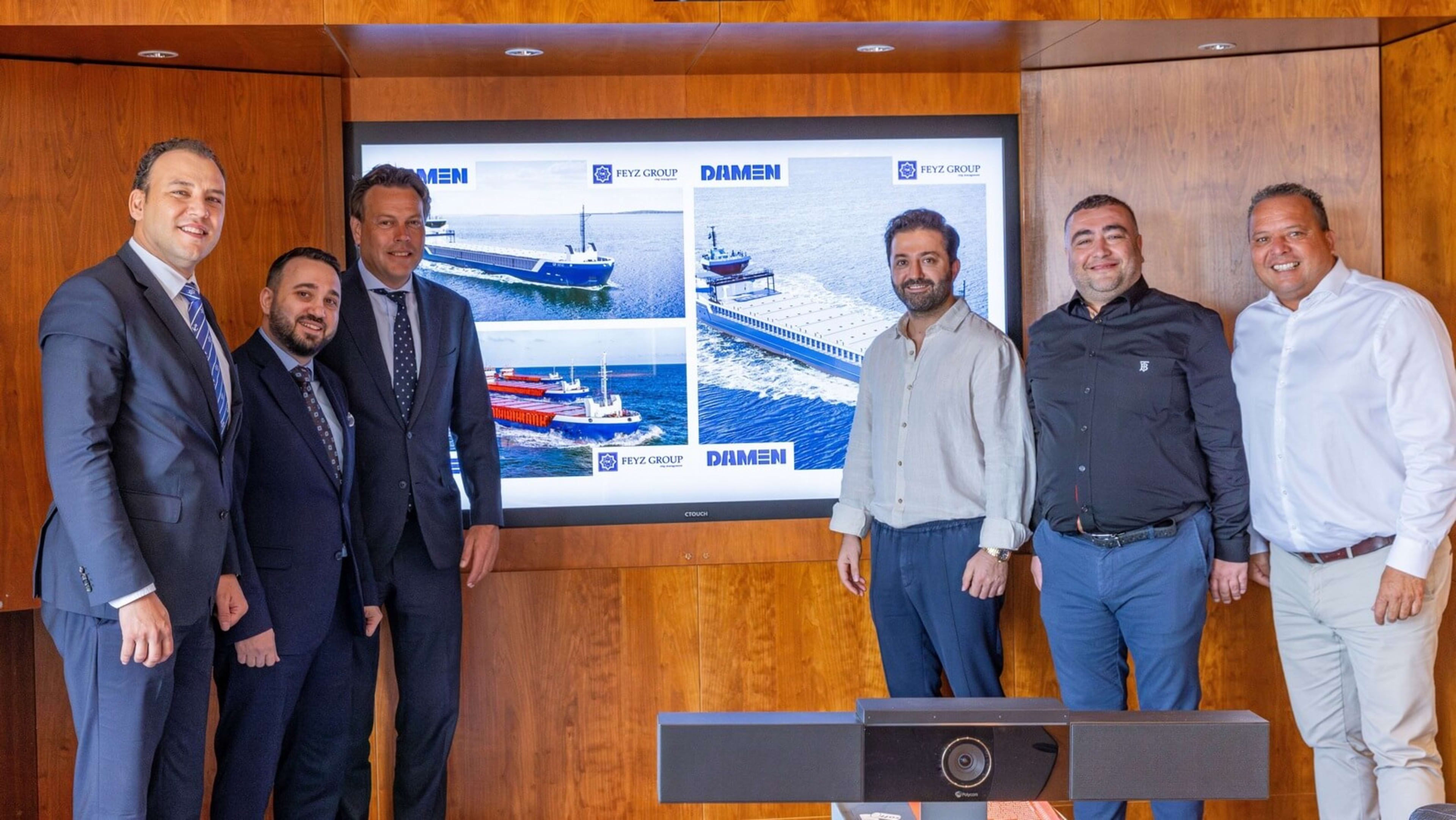 From left to right: Boran Bekbulat (Regional Sales Director, Damen Shipyards), Engin Aynaci (General Manager, Feyz Group), Arnout Damen (CEO, Damen Shipyards), Serkan Leke (Chairman of the Board SLPLUS Holding), Yasin Us (Partner, Feyz Group), Jason Bronscheer (Managing Director, Damen Cargo Vessels Operations)
On the top photo from left to right: Serkan Leke (Chairman of the Board SLPLUS Holding) and Jan Willem Dekker (Chief Commercial Officer, Damen Shipyards)