Ferry happy people
Sustainable maritime solutions
Damen's work on the electrification of the maritime industry falls under the so-called E3 umbrella. That is, environmentally friendly, efficient in operation and economically viable. The shipyards group is currently working on a number of projects for electric vessels.
City ferries
Ferry designs that put customers first
City ferries
There is nothing more important than a ferry that completely suits your business and keeps your customers happy. This is why we put your customer first in our designs. Many cities are crossed by rivers and estuaries which provide an excellent opportunity to transport people from one place to the other. Commuters can avoid traffic jams when travelling by ferry. Instead of being imprisoned in a car, they can sit back and relax: read the morning newspaper, prepare for the day ahead or check social media.
Show models
Keeping cities connected
Safely delivering passengers worldwide
Whether work, school or leisure, Damen City ferries are safely delivering their passengers to destinations all over the world. Schoolchildren board with their bikes on their daily journey to school, business people catch up with the last pieces of paperwork and tourists take the opportunity to view the beauty of the city seen from the water. Everybody enjoys a comfortable ride.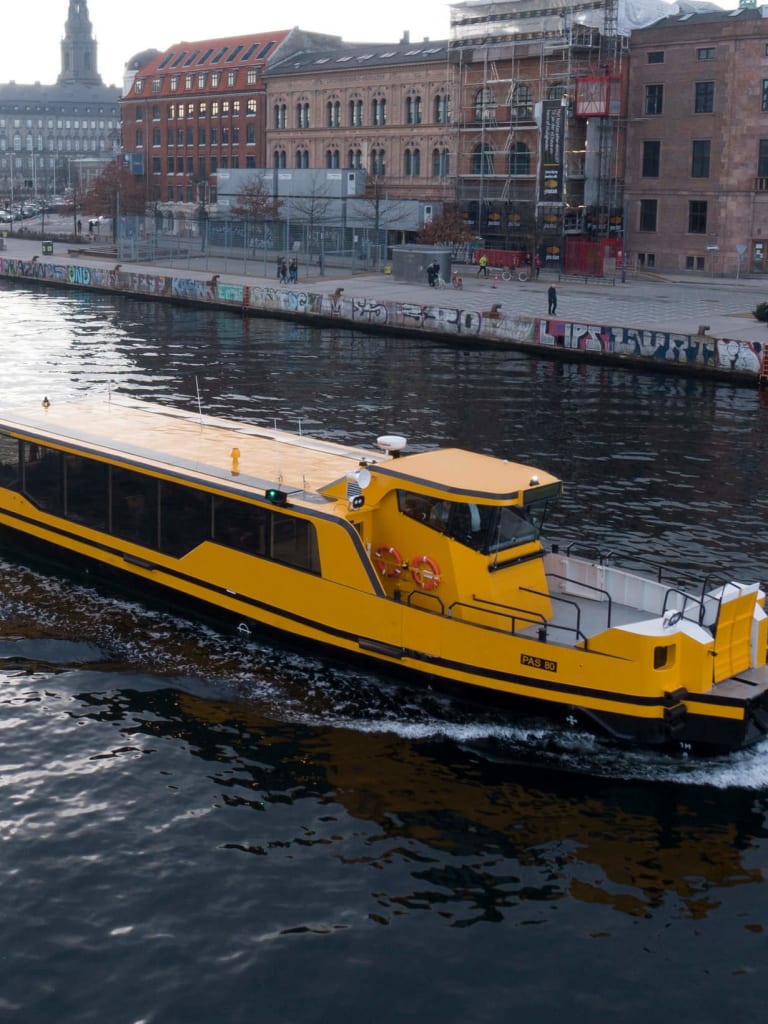 Green city ferries
Take charge of tomorrow
Damen Ferry 2306 E3
Seven electric ferries for Copenhagen
Copenhagen was keen to modernise its waterborne transport system and issued a tender, specifically encouraging bidders to propose environmentally friendly vessels. Arriva won the tender in partnership with Damen, and will provide seven electric ferries, including automatic fast-charging infrastructure.
---
Damen Waterbus 2407
Five Damen Waterbuses in Antwerp
Since 2017 Aqualiner has been contracted to provide water-based public transport services in Antwerp. This is part of a wider transportation programme to improve the city's infrastructure and reduce pressure on the roads. Currently, five Damen Waterbuses 2407 are operating along the River Scheldt.
---
Damen Ferry 3412
Two Damen SeaBuses busy in Vancouver
TransLink, Metro Vancouver's regional transportation authority, has two SeaBuses of Damen in its fleet that transport passengers between downtown and north Vancouver, which is one of the world's most popular ferry routes. The Damen SeaBus is a 34 x 12 metre aluminium vessel, capable of carrying 395 passengers.
---
Damen Ferry 1806
16 ferries & 8 jetties for STL in Abidjan
In 2017, Damen worked together with Société des Transports Lagunaires to develop a state-of-the-art ferry system in Abidjan. Damen delivered 16 Damen Ferries 1806. The vessels are able to accommodate a large number of passengers, whilst having low operational costs. We also supplied eight floating jetties.
---
Discover our models
Need more in-depth specifications about technical details? Go to our product view and download the product sheets.
Show models
Torben Hansen
Bus Director, Arriva Denmark
Customer review
"Damen's experience with fully electric vessels has positioned them well to support and advise us."
DAMEN
Your maritime solutions partner
Buying a vessel from Damen is so much more than just 'getting a new boat'. It includes a variety of financing possibilities. It's about choosing where you want your vessel built. Plus, our service continues throughout your ship's entire lifecycle.