Whatever the dredge pipe diameter
A complete range of dredge valves
Dredge piping delivers the dredged slurry to the right spot. For this, dredge valves are indispensable on board of cutter suction dredgers and trailing suction hopper dredgers. Moreover, land discharge pipe lines need a robust dredge valve for reliable operations. The dredge valve delivery program covers a wide array of dredge pipe diameters and pressure stages.
Wear resistant rubbering gate valves
Reliable flow control
Damen offers a complete line of dredge valves which can be used in an array of dredging equipment. The robust sand and slurry valves have all been designed by the in-house R&D team, and are manufactured in the Netherlands. The rubbering gate valves are for use in suction and discharge piping transporting highly abrasive slurries.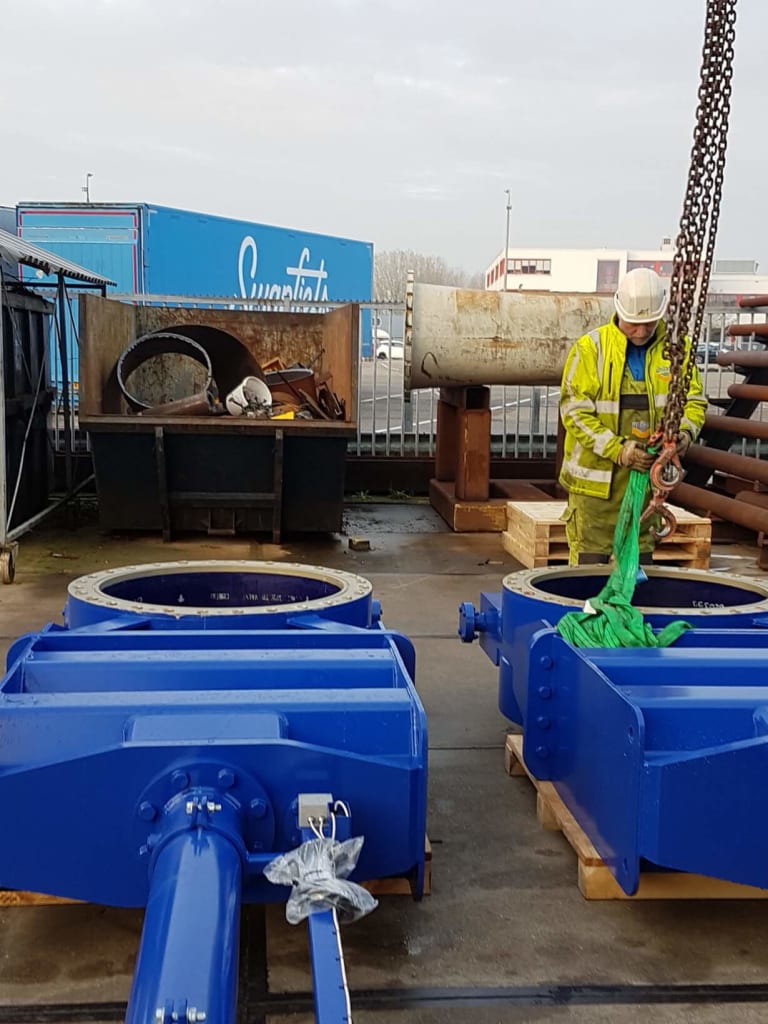 Diameters range from 250 to 1000 mm
For all dredgers, great and small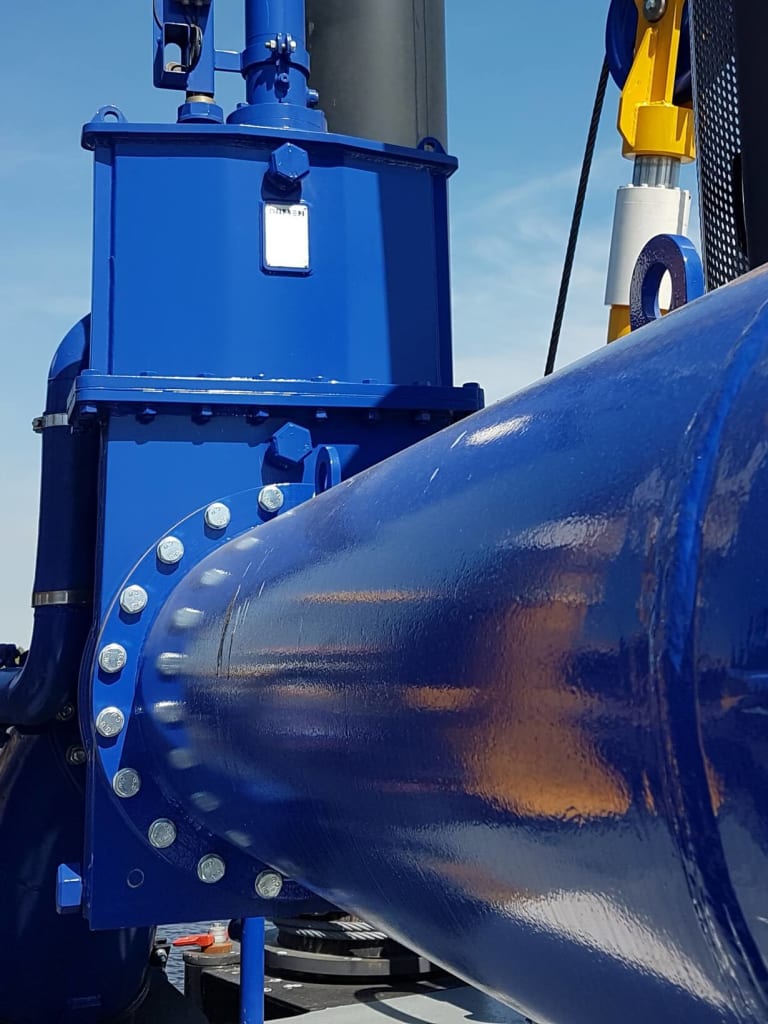 Various pressure stages
Easily mounted into suction and discharge pipelines
Practical design
Swift installation and easy maintenance
The dredge valve range has been designed to be flange-mounted in dredge pipe lines. The valve body has a bolted horizontal division. Moreover practical inspection and maintenance covers and flushing connections are provided in the lower body. The high tensile stainless steel valve slide is actuated by a hydraulic cylinder, fully opening or closing the dredge pipe.
---
Watertight slide seals
In open and closed position the dredge valve is fully watertight using wear-resistant polyurethane sealing rings. The easily replaceable sealing rings are pre-tensioned to provide a smooth and free passage of the mixture. The sealing rings close immediately after lifting the slide for minimal siltation of the valve body.
---
Full control
A double acting hydraulic cylinder operates the valve slide. It is mounted vertically on top of the upper body by a flange connection. The cylinder rod is connected to the slide, ensuring a completely open or fully closed position. This position is indicated both electrically and mechanically.
---
Minimal build-in length
Space is limited on board of dredgers. Hence, our dredge valves have been designed as slim as possible. This ensures an easy fit of board of your suction dredger. Still, it has been robustly designed for flow control of slurry, sand, stones, aggregates and other abrasive materials – fit for purpose.
---
What dredge valve do you need?
Let's check our stock!
Customised Dredging Components
Your partner in dredging
Dredging requires more than just shipping a dredge valve or drag head. It requires more gear such as dredge instrumentation to optimise the job. Moreover, it requires crew training and project management to bring the works to a successful conclusion. Damen can assist you during the full lifecycle of your dredger.