Suitable for your dredging tool
A wide array of dredge pumps
Whatever the dredging equipment is you are building or upgrading, there is a dredge pump in our program to match your requirements. For cutter suction dredgers, booster stations and suction hopper dredgers a robust dredge pump is crucial for reliable and efficient operations. The Damen dredge pumps offer exactly that: high performance, high uptime and practical maintenance.
Maximise your production
High efficiency dredge pumps
Damen offers a complete line of dredge pumps which can be used in an array of dredging equipment. The robust sand and slurry pumps have all been designed by the in-house R&D team. The full range of dredge pumps sports the latest CFD designs, incorporating for instance high efficiency double curves vanes. The dredge pumps are known for their reliability and high output even in highly abrasive slurries.
Wide range of dredge pumps available
For all dredgers, great and small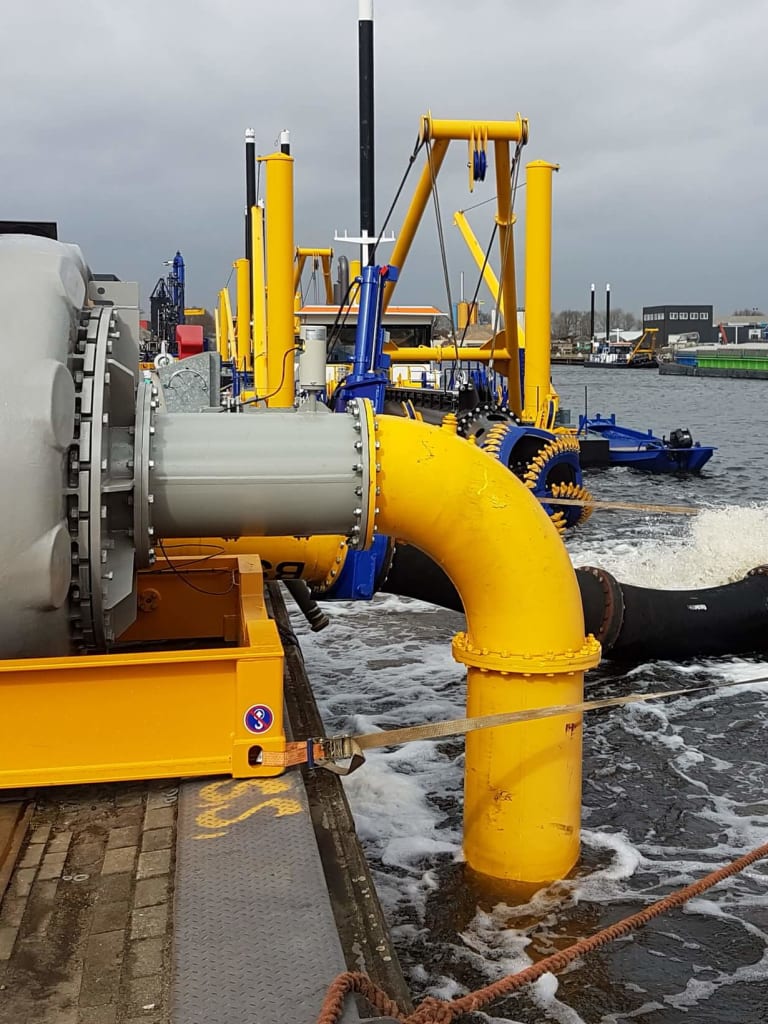 Dedicated in-house design team
Continuous innovation in dredge pump design
The right pump for the job
Optimised operations
Each dredger needs an operation-specific dredge pump. There are pumps for high capacities, for high pressure, or for submersed operation. The Damen dredge pump delivery program offers a dredge pump matching your requirements.
---
Pressure stages
A dredge pump is to fit in the dredger's operational profile seamlessly. Therefore Damen offers low, medium and high pressure dredge pumps. All dredge pump types have been designed to excel at what they are best at - with maximum efficiency to rationalise running costs.
---
Submerged or in-board use
A dredge pump can be placed in board or it can be integrated in a submersed installation. In board dredge pumps can be found in the pontoons of stationary cutter suction dredgers or in the hull of hopper dredgers. Yet, the dredging depth of these in-board dredge pumps is limited. Therefore it may be required to install a submersed dredge pump in a suction pipe to ensure a high mixture production.
---
DynaCover outer pump casing
As a standard, a dredge pump as a single layer pump casing. As an additional safety layer a DynaCover outer pump casing can be added. This practical flexible and ultra-light outer pump casing consists of a patented fibre cover which is clamped onto the existing inner pump casing. Should the cast inner pump casing break, flooding of the engine room is prevented: a practical dredging solution.
---
Booster stations
Dredge pumps are used in an array of different dredging equipment. From compact mud dredgers to midsize sand mining dredgers to mighty trailing suction hopper dredgers which keep our harbours accessible. And there are booster stations; they enlarge the discharge distance of any of the before-mentioned dredgers. You can build your own booster station using a Damen dredge pump, of you can check out the Damen Booster Station range.
Read more
---
What dredge pump do you need?
We'll assist you selecting the right one
Customised Dredging Components
Your partner in dredging
Dredging requires more than just shipping a dredge pump of drag head. It requires more gear such as dredge instrumentation to optimise the job, it requires crew training and project management to bring the works to a successful conclusion. Damen can assist you during the full lifecycle of your dredger.
Dredge package
Dredging components can be supplied as a single item, or as a complete dredge system or package. For a retrofit or newbuild, first class dredging components will allow you to do your dredge job in the most efficient way.
Getting started
As well as shipping the required dredging components to your yard, we can also send over our Field Service Engineer to assist the crew with installation and start-up. This will shorten the installation time, and give an opportunity for crew training.
Lifecycle support
For spares, repairs, alterations or additions to your dredge systems, our Service team is available 24/7.